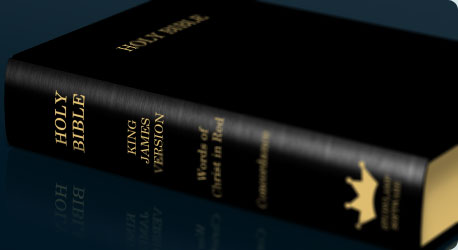 A little disclaimer before I get into this: I'm not an expert and I don't claim to be, it's not my purpose to offend or insult. I am also not a homosexual, homophobe, Christian, or Christophobe. So, 400 years ago this month, the world was greeted with what is possibly the most popular translation of the Bible- The King James Version(KJV). The reason it's the most popular has to do with how easy it is to read and how well it flows. This, along with British imperialism lead to it become what it is, one of the most popular versions of the Holy Bible. The book is named after King James(of course), because James wanted to bring together the Purists and followers The Church of England.
King James commissioned around 47 people to translate the Bible to "Commoner English" in 1604. In May 1611 it was finished and distributed throughout England and made it's way to the Colonies. History was made, and it's a pretty amazing story considering today it only takes seconds to distribute written materials worldwide.
Well, with the backstory completed let's talk about something more recent. For years Homosexuals have been on a campaign to be allowed to marry legally. The most resistance they come against is from the conservative Christian Right and Left(yes there are leftists who oppose gay marriage.) Their entire argument is that, homosexuality is a sin and that allowing them to marry would either lead to all of us becoming gay or invoke God's wrath on our nation.(These people win 6 out of 10 times).
Being the rational Heterosexual man I am- I'm just going to be as blunt as possible. I could give less than a fraction of a fuck if Bob marries Stan or Jane sleeps with Tammy. It's really none of my business. I've always thought(maybe I'm the bigot here?) that a large percentage of those against gay marriage, are afraid they'd be the among the first to get one.
Now I'm pretty sure, given that it's the most popular version(I even have one in my house), it could be determined that most of these people use the King James Version of the Bible to justify their, for lack of a better word, hatred of homosexuals. Let's not call them hypocritical or ignorant, let's just use my favorite word- misguided.
You see the great irony of them using the King James Bible is that most historians agree, King James was at least Bisexual(given the fact that most royal marriages weren't based on love at the time, it's more likely he was gay). James reportedly had intimate relationships with at least 2 men.
Let that sink in for a second, the man who's name graces the Bible some of them use to justify their homophobia- was gay. It's almost hilarious how ironic it is. The most well known English translation of the Bible, was not just named after but also commissioned, by a gay man.D
oesn't that just blow your mind?
Now it should be noted that all of them don't use the KJV, but a large percentage of them do. It's just something to think about. Next time you come across someone who comes out strongly against homosexuality based on the Bible- ask them which version they use. They might be surprised to find out how gay it really is. JustDaTruthHomie, accept no substitutions.